"Brush aside any thoughts that massage is only a feel-good way to indulge or pamper yourself. To the contrary, massage can be a powerful tool to help you take charge of your health and well-being, whether you have a specific health condition or are just looking for another stress reliever." -
MayoClinic.org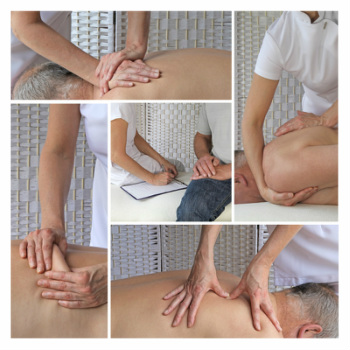 "Massage therapy provided by a professional massage therapist is being increasingly viewed by physicians and their patients as an important component of integrated care. Nearly 9 of 10 American consumers believe that massage can be effective in reducing pain. And, a growing body of clinical research continues to validate that." -
Nancy Porambo, AMTA President
"Research in massage therapy has found promising results for reducing pain associated with chronic conditions including migraine headache,
1
lower back pain,
2,
3
fibromyalgia,
4
and juvenile rheumatoid arthritis.
5
The benefits of massage therapy may therefore extend to other chronic pain conditions such as tension headache." -
Christopher Quinn, DC, et al
.
"Massage can ease your arthritis symptoms." -
Arthritis Foundation
According to the August 2005 issue of
Consumer Reports
magazine, 34,000 people ranked deep tissue massage more effective in relieving osteoarthritis pain than physical therapy, exercise, prescription medications, chiropractic, acupuncture, diet, glucosamine and over-the-counter drugs.
---
---
What type of massage does YOUR body need?
Do you prefer a relaxation massage or a deep tissue service?

Does your body need pampering or pain management?

Are you stressed out and need to relax and unwind?

Are you recovering from an accident or an illness or do you have a condition that requires special support?

Do you prefer a spa environment or would you prefer to receive massage in the comfort of your home?

Do you need a quick fix to manage a particular ache or pain or do you want to spend a little more time and receive a total wellness treatment?

---

Therapeutic Massage Sessions


---
Most people enjoy receiving a classical full body Swedish-style relaxation massage, which uses a light to moderate pressure to relax the body and the mind.

Individuals with injuries and chronic conditions may require some deep tissue work to break up adhesions (knots) that can block circulation, limit mobility and cause pain.

In a Therapeutic Massage Session, variety of protocols and techniques (such as those mentioned below) are incorporated as are varying degrees of pressure. Each session is unique and is dependent upon the current needs of your body and the desired outcome of that particular session.

---
Arthrossage


---

This is a great treatment for those suffering from osteoarthritis, rheumatoid arthritis and fibromyalgia. The client can wear comfortable clothing. This work focuses on increasing flexibility, lubricating joints and lengthening muscle tissue.
It is best to not schedule during a flare up but works well as a preventative measure.

Chair Massage




---

This is a great treat to offer at a party or a special event. One or more therapists will come to your desired location and provide an abbreviated therapeutic massage routine. This service will create traffic at your sales booth, will make your party one to remember and is better than a fruit basket as a holiday gift.

Foot Reflexology


---

This surprisingly relaxing service can be provided as a stand alone service or be included as part of a full body massage. This age old form of alternative medicine involves putting pressure on various points of the feet in order to effect the corresponding organ. This will improve circulation and reduce pain.
---

Lymphatic Drainage Massage


---

This gentle and deeply relaxing work is intended to encourage a natural drainage, assisting in the removal of waste products from the body. This is an ideal treatment for certain post-operative clients and those with localized swelling or long-term lymphedema.

---

Lypossage




---

Deep manual lymphatic drainage techniques are applied to create body contouring effects such as cellulite reduction. Zone 1 deals with the lower body. Zone 2 the upper body and Zone 3 the face and neck. A series of sessions is suggested for best results.

---

Massage Cupping


---

Massage cupping has been used as a healing modality for millennia. Cups create a vacuum-like effect which increases blood flow to stagnant tissue and loosens adhesions (knots) resulting in reduced stiffness, improved range of motion and pain relief. Please be forewarned that cups may leave marks on the body that can last for several days.
---

Medical Massage

---

Medical Massage involves treatment of specific conditions based on physician prescription only. Work is isolated to the area prescribed. Sessions take place in 15 minute increments, with a maximum of 2 body parts per session. In certain instances, insurance will reimburse the cost of this service.

---

Sports
Massage &
Assisted Stretch


---

Sports Massage can be incorporated as a pre-event warm up, for post-event recovery or with the intention of rehabilitation. Often considerable attention is given to alleviating localized pain due to an injury or addressing a problem area. Assisted stretching may be performed and homework exercises may be suggested.

---

Thai Yoga Massage



---

Thai yoga massage is performed with the recipient lying down on a mat on the floor. The receiver wears loose, comfortable clothing and is passively moved through various yoga poses while receiving gentle pressure along the body's energy (Sen) lines. This is both an energizing and deeply relaxing treatment.
---
How much does a massage cost?
The infamous question. Of course pricing is a concern to all of us. Pricing can range anywhere from no charge at all to $150+ per service and is dependent upon the type of service you need, the duration of the service, the location, the appointment time and the frequency with which you schedule your massages.

At Vitality Expressed, we adhere to the adage, "it's not what you have, it's what you give" and we do try to make need-based accommodations when possible.

Massage is a critical component of a wellness routine. Receiving massage on a regular basis is an investment in your health. Massage can be a powerful tool that can help you take charge of your well being.

---
Are you ready to schedule an appointment for a therapeutic massage?
New clients are accepted on a referral basis only.
If you have taken a fitness class or been referred to this site, please call the telephone number provided or you may make an inquire by
email
.
Prior to receiving your service, it is important that you fill out a New Client Intake Sheet.